If you've completed the Panoplia.org Soft Skills and Tactics (SST) course you'll be very familiar with our overall Loadout Levels concept. If not, click here to review or download a free eight-page PDF document that offers an overview and includes all the Quick Reference Cards.
We've always suggested not carrying bags that look tactical. This would include those with MOLLE webbing, etc. Doing so alerts others that the bag may contain weapons. It also makes such a bag an attractive target for theft, or brings unwanted attention to the individual carrying it during times of conflict or chaos.
Since 2015 our primary Loadout Level Two (LL-02) setup, often referred to as a "Go Bag," was carried in a black Pacsafe 15-liter backpack. This served us very well. It's not overtly tactical-looking, yet after consideration we decided to change things up for 2022.
This decision was based on the fact that it's becoming more common for individuals to carry Go Bags. Our black bag with a visible quick-access tourniquet simply fit the developing trend too well. It served to identify us to others as being prepared, and likely armed. That's attention that we don't want.
For this reason we transitioned to a bag that was initially intended for the European jogging and cycling communities. It's sleek, small, brightly-colored, and screams "sporty" rather than "tactical." A quick note on the size. When we started carrying LL-02 bags more than twenty years ago they were 30-liters or more and often weighed in at almost twenty pounds. This was the case because we packed for almost any contingency. Over the years our systems and choices have been refined many times. Each time we end up with a smaller and lighter bag for a variety of reasons.
Our 2022 LL-02 bag is rated at 15-liters, yet it's the smallest 15-liter bag we've ever carried. It weighs almost nothing, and has almost no structure to it. This is not a problem for two reasons. First, we cut and installed a product inside the bag to give it structure. Search for the keyword "Lexan" on our Latest Posts page for how this works. Second, everything within the main compartment of the bag is enclosed in a separate case that gives the bag even more structure. More on this later.
The bag we chose is by a company called Deuter. It's shown at the top of this page. This model is now discontinued, yet any bag that looks more sporty than tactical will do. No matter what bag you choose, please recall that our Loadout Level concept teaches that each Level should include four essential categories. These are: A means of communication, medical/trauma supplies, self-defense options, and survival procurement resources.
The image above of our 2022 bag shows the contents of the outside pockets on each side. This includes a Gen 7 Combat Application Tourniquet (CAT) by North American Rescue on one side. The other side holds an aluminum Fisher Space Pen (the CLUTCH model), and a tactical flashlight that weighs only 6.1 ounces and yet can blast 3,300 lumens of strobing or steady light into one's eyes. We'll review this flashlight soon. Along with any pistol you may carry when possible, these latter two items can serve as effective self-defense weapons.
The remainder of this article will include a series of images and short explanations in order to show the contents of our current LL-02 bag. The image below shows an Ape Case Cubeze 33 (ACQB33). These are designed to protect photography equipment. They weigh almost nothing, and provide excellent padded protection for the items stored inside them. This case also offers structure and shape to the bottom of the backpack.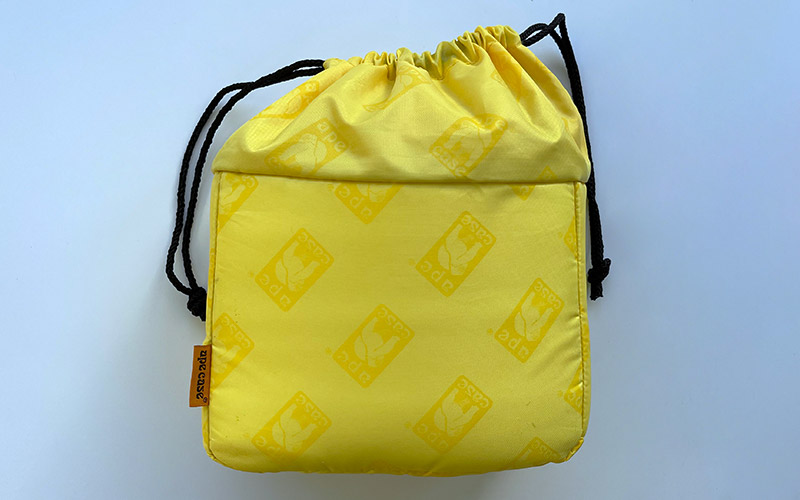 The next image shows how the Ape Case fits within the backpack. It can be accessed as it sits, or quickly removed to access all the contents while the case is outside the backpack.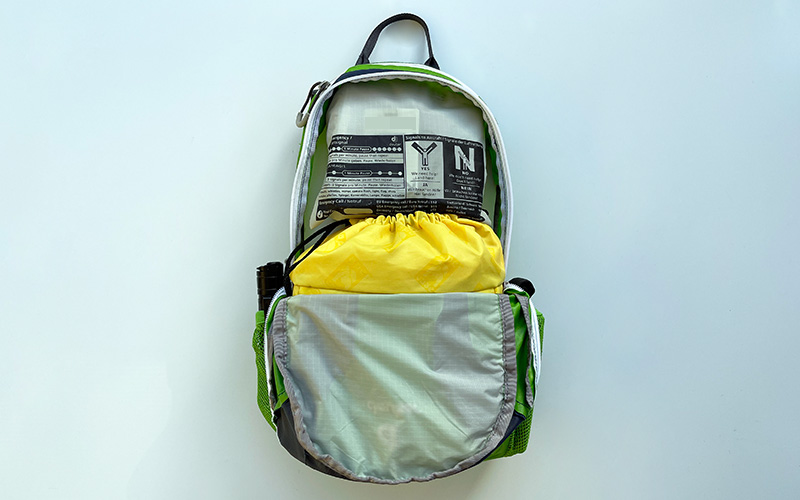 The pocket shown above the yellow Ape Case (marked with a "Y" and "N") is accessible by a zipper on the very top of the bag. The contents of this are not shown. This includes a passport, credit cards, and various credentials. We have also carried in this pocket the Nikon HG5X15D monocular that we previously reviewed. The next image shows the Ape Case from above. The case includes Velcro dividers. We've divided the case into three sections.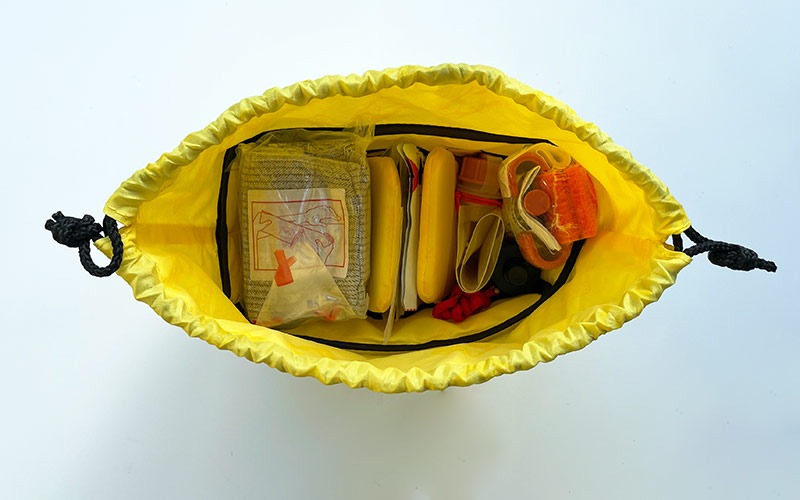 The contents of the first section are shown below. This includes a Garmin InReach Mini satellite texting unit, an AINOPE 10,000 mAh battery pack, and an iClever dual-port USB wall charger. These are for communications and comms support. There's also a Carson night vision monocular that we've reviewed in the past. The final item is an Israeli pressure bandage that's part of our medical/trauma category. This sits on top for easy access.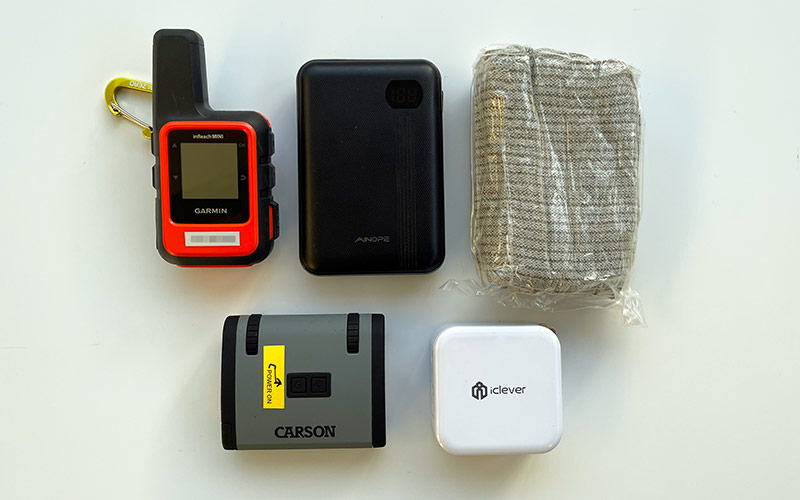 The next image shows the contents of the middle section of the Ape Case. This includes a variety of survival procurement resources, cables for communications support, a Klarus HC3 headlamp, and a set of two HyFin Vent chest seals as part of our trauma supplies. Most of the items are housed in 3×5 inch, 4-Mil plastic bags. These allow for easy access and organization.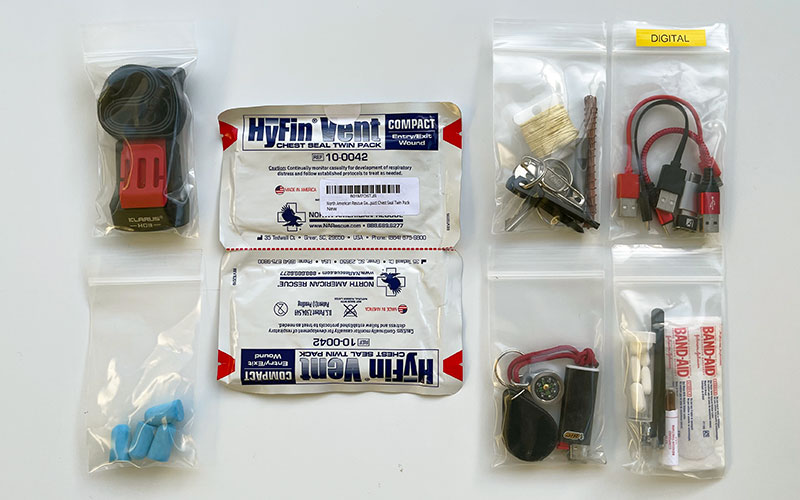 The image below shows the contents of the third Ape Case section. This holds a Sawyer Mini water filter, a collapsible Evernew water carry bag, a length of Paracord, and an extra Gen 7 CAT tourniquet.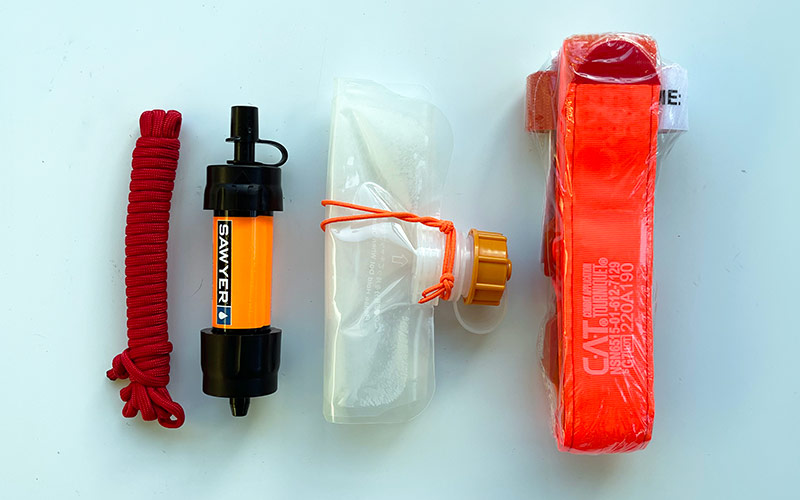 Every Loadout Level, including an LL-02, will be different for each individual. As long as each level covers the four essential categories as described earlier and shown on the free PDF Quick Reference Cards, you'll be good to go. You'll notice on the Cards that we suggest an LL-02 not weigh more than 10 pounds. The bag as shown in this article with all its contents weighs just 5.1 pounds.
We hope you enjoyed the example we described above. No doubt, it will be refined again soon. If so, we'll endeavor to keep you updated.