Would you know what steps to take if someone called you to report an unexpected security Incident? Having an outline at such times can make a significant difference. This is especially the case when the situation is unfolding overseas, and is somewhat complex in nature.
Many security incidents, and even crisis situations, can be avoided through sound preparation and wise navigation. In other words, those who have been trained in Soft Skills and Tactics (SST) often have a way of avoiding becoming involved in unexpected security issues. Please see the Panoplia online SST Course for such training.
Even with the best training and implementation, however, security incidents and crisis situations can take place anywhere at any time with little notice. This might involve a natural disaster, an attack, the outbreak of armed conflict, etc. We've seen a number of these in recent months, and have been called on for assistance. Often, the first step in incident or crisis management is the collection and control of relevant information. Poor decisions at this stage can be difficult to overcome, and can have serious consequences.
As a Global Security Advisor, being notified of security incidents is not unusual. Over the years we have developed an "Incident Response Outline" to help at moments when such notifications are received. We have adapted this to develop a three-page document, the first page of which is pictured below.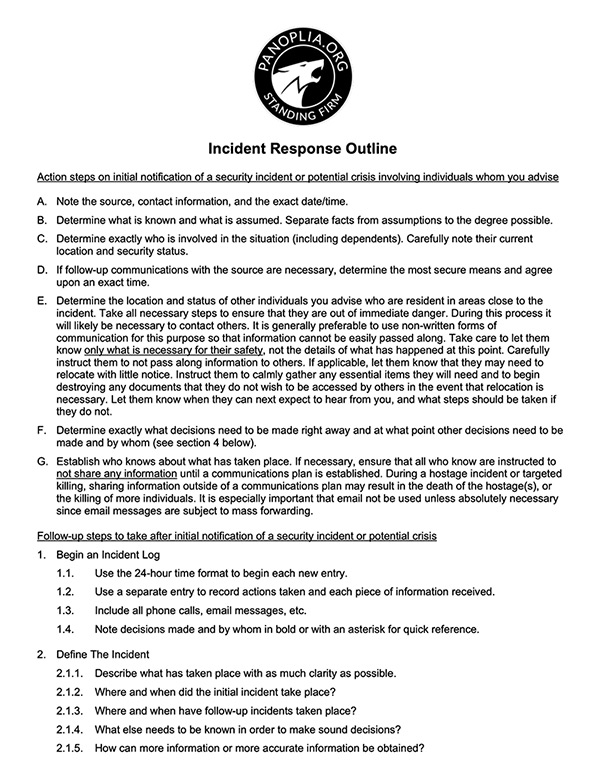 Feel free to download this PDF document by Clicking Here if you think this might be helpful to you.
As you review this, please pay special attention to Part G concerning the control of information. Under certain circumstances keeping things on a need-to-know basis is essential. This is an area that is often missed, and that can have terrible results. In fact, not long ago a situation took place concerning a number of people serving overseas. Information about this situation was not controlled. News of it was spread widely by email and possibly using social media. Thankfully, the reported situation ended up being a rumor rather than an actual security incident. Had it actually taken place, the details shared could have placed numerous lives in danger.
Helping to manage the response to security incidents and crisis situations is seldom an easy process. This often involves weeks or more of intense effort and very little rest or sleep. Having an outline to help you think clearly at such times can be very helpful. We hope you can use the PDF document linked above as the basis for your incident or crisis management planning.