If you've watched any interviews with Ukrainian soldiers fighting on the frontlines, you may have noticed something about their weapons. It's often the case that their firearms are worn down to the bare metal in several places. The example above illustrates this to some degree, yet many are far more heavily worn.
This makes perfect sense. These men and women are fighting for their country, their lives, and the lives of those next to them, on a daily basis. They find themselves crawling into and out of muddy trenches numerous times a day, weapons at the ready. Even at rest, their weapons are either slung on their backs or placed in arms reach on the ground. It's no wonder that their firearms look like they've been dragged behind a pickup truck for miles.
This would not be surprising to the brave men and women who've fought for the United States armed forces. After years of war, their issued weapons likely took quite a beating during heavy use. This stands in contrast to the firearms that at this moment are stored in our safes at home, especially long guns that are not routinely carried. Many of these, including most of my own, are in pristine condition. I suppose it's the case that how worn a weapon is tells a story about how heavily it's been used.
The same can be said for tools. As a teenager I worked as a mechanic at a motorcycle shop. I had a pretty extensive set of Snap-On tools housed in a toolbox from the same company. Many of these tools are still with me more than 40 years later. They've seen hard service over the decades, including some of them being dragged overseas with me numerous times.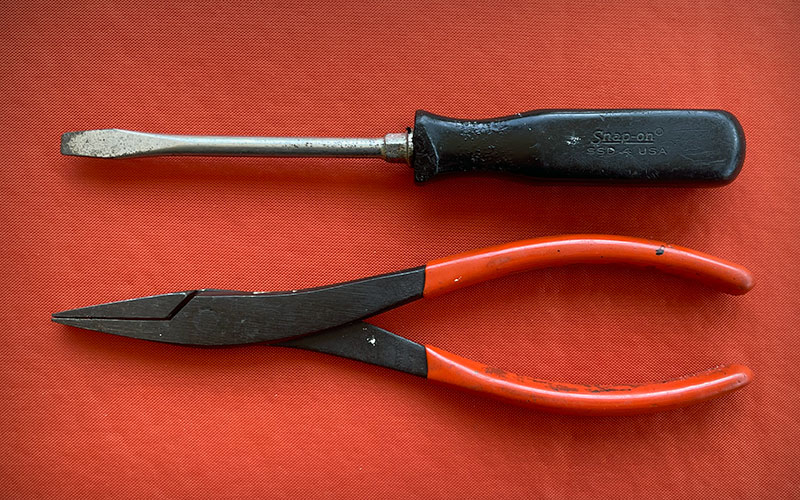 The image above shows two examples. Even though it's worn and beaten, the Snap-On screwdriver works as well today as it did when I was 18. The pliers have an interesting story. I recall fixing someone's motorcycle during one of my periods living overseas. We were in an area that was mountainous, and might be considered well off the beaten track. As I was working on the motorcycle, a fellow American who had years of experience as a mechanic looked at me and said, "How in the world did you get a set of Snap-On Duck Bill Pliers in this place?" After I explained that I carry a basic set of tools with me when I travel, he shook his head in amazement.
The point is, like the weapons heavily used by American and Ukrainian forces, tools that see hard use generally show the scars of their exploits.
Recently I watched an interview with a Ukrainian soldier who was in the midst of heavy fighting. As was the case for many others, his weapon showed the impact of heavy use. This made me wonder about the spiritual realm. Ephesians 6:10-17 (ESV) says:
Finally, be strong in the Lord and in the strength of his might. Put on the whole armor of God, that you may be able to stand against the schemes of the devil. For we do not wrestle against flesh and blood, but against the rulers, against the authorities, against the cosmic powers over this present darkness, against the spiritual forces of evil in the heavenly places. Therefore take up the whole armor of God, that you may be able to withstand in the evil day, and having done all, to stand firm. Stand therefore, having fastened on the belt of truth, and having put on the breastplate of righteousness, and, as shoes for your feet, having put on the readiness given by the gospel of peace. In all circumstances take up the shield of faith, with which you can extinguish all the flaming darts of the evil one; and take the helmet of salvation, and the sword of the Spirit, which is the word of God…
In this passage, we are given a glimpse into the spiritual realm. It's clear that we have spiritual enemies, and that God has provided the Christ follower with weapons. Did you catch the fact that God's word is spoken of as, "The sword of the Spirit?"
This made me wonder about how worn our spiritual weapons are, and how much heavy use they've endured. Are the pages of our bibles marked up and dog-eared? Do they have stains from tears shed as we consider how what we've read impacts our lives and the lives of those we love? Don't get me wrong, having lived for years among Muslims who revere their holy book and treat their Qurans with great care, the numerous bibles I've carried over the years are actually in pretty good shape. And yet, by God's grace alone they show the signs of heavy use. I don't know how I would face life without the encouragement I receive from God's word, and how I would fight the battles of life without this Sword in my hand.
There are plenty of times when I fail in spiritual battle. And yet, it's amazing to know that at any time I have the privilege of being able to pick back up the Sword of the Spirit and fit it tightly into my hand. After seeking forgiveness and strength from our King, and direction from his word, I can once again enter the frontlines. Facing the challenges of this life together as Christ followers, let's encourage each other to ensure that our spiritual weapons are heavily worn, and that the spiritual battles we fight are based on God's word rather than on our own desires. Amen.