Last month I turned sixty years old. Knowing that one of the ways I relax is watching documentaries, my wife purchased me a new television. Our old one was relatively small, and the picture was so bad that one could hardly discern how many people were in a particular scene.
Our new LG-TV is great. It has a beautifully clear picture, and has all the features of the new smart TVs. In fact, it has so many features and options that I had to download a User Guide in order to understand how to get the most out of this amazing product. Sure, anyone can turn it on and start watching, yet in order to understand how it operates as intended by the manufacturer some reading is required.
When you think about it, the same is true for us. Each individual has been lovingly created by God with a general and a specific purpose. The general purpose is the same for all of us. We were created to love God with all our heart, soul, mind, and everything else we are (Deuteronomy 6:4-5, Matthew 22:37). The specific purposes for which we were created involve discovering how to love others with the gifts, talents, and resources with which we have been blessed (Matthew 22:39).
Discovering how to love God and how to love others represent the most profound and meaningful parts of life. In the same way that anyone can turn on a smart TV and start watching without knowing about many of the amazing features available, anyone can go through the motions of life without ever discovering the unique purpose and meaning of why he or she was created.
Searching for the purpose and meaning of one's life in the wrong places is one of the reasons why so many people live their lives and finish their lives with a profound sense of sadness. In contrast, in John 10:7-10 (ESV) Jesus said:
Truly, truly, I say to you, I am the door of the sheep. All who came before me are thieves and robbers, but the sheep did not listen to them. I am the door. If anyone enters by me, he will be saved and will go in and out and find pasture. The thief comes only to steal and kill and destroy. I came that they may have life and have it abundantly.
When a person finds the abundant life available to anyone in Jesus, everything changes. A new, eternal perspective begins to grow deep within one's inner being. This begins a journey of faith that lasts one's entire life. It needs to be said that life in Jesus is not easy. 1 John 5:19 makes it clear that "The whole world lies in the power of the evil one." When one receives Jesus as Savior and Lord, a new and abundant life in Christ begins. At the same time, the enemy from whom that individual has escaped becomes enraged and the Christ follower becomes a target of spiritual warfare. The closer one draws to Jesus, the more angry and active God's enemies become. And yet, the closer we are to Jesus, the more protection we enjoy (1 John 5:18, James 4:7).
As noted, this life of discovery, purpose, meaning, and warfare is abundant, yet not easy. For this reason God has given us his word. He's also given every believer the Holy Spirit to lead us into truth as we study God's word and draw close to him in prayer. In essence, God's word is the Christ follower's User Guide for life. Without it we will not discover the abundance of life and understand the warfare that surrounds us and how we are to battle.
The standards, best practices, marching orders, standard operating procedures (SOPs), and meaning behind everything in our lives can be found in God's word. This being the case, it's critical that we dive deep into the Scripture on a regular basis.
From year to year I tend to alternate between listening to and reading God's word. From January 2020 until February 2021, I followed a listening schedule that allowed me to enjoy large portions of Scripture. Beginning in March 2021, I began a reading schedule. I enjoy both approaches, yet I have to say that I tend to get more out of my reading.
One of the things that has made my reading times more enjoyable is the New Testament I purchased. The exact edition is the "ESV New Testament (TruTone, Brown)." It's published by Crossway (ISBN 1433565692), and can be found online. What I love about this is the space it allows for reading and note taking (see the image at the top of this article).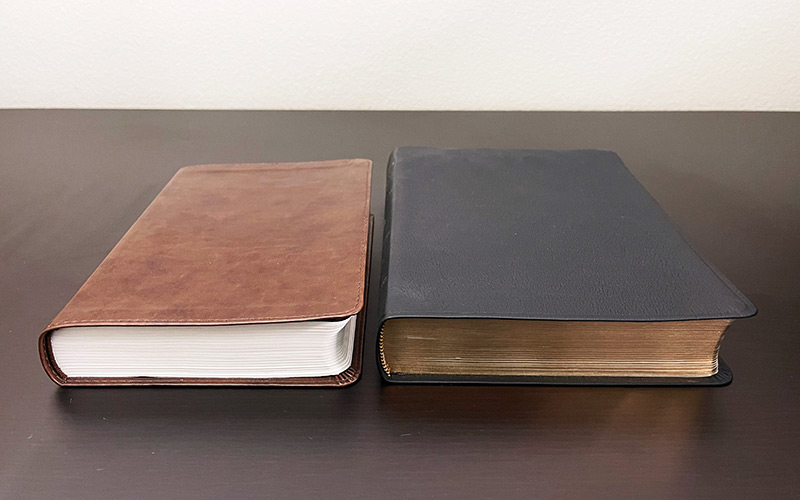 The image just above shows the New Testament (left) next to my full ESV Bible (ISBN 1433561956). In order to fit the Old Testament (OT) and New Testament (NT) into one book, the NT tends to be tightly printed in two narrow columns in full Bibles like the one shown to the right. Having the NT printed alone (left) allows for an edition in which the pages look more like those of a traditional book. This allows me to make notes and to draw lines to link key words and concepts.
For 2022, I plan to read a chapter in the New Testament on most mornings. Note that the NT contains 260 chapters. I'll chart my reading on the sheet shown below. Reading the books of the New Testament in the somewhat unusual order shown helps ensure that we're exposed to the four Gospels (Matthew, Mark, Luke, and John) throughout the schedule as opposed to reading them all up front as they appear in the Bible. You can download a PDF version of this Reading Record if you'd like to by clicking here.
I plan to listen to the Old Testament for ten minutes or so in the evenings, and to loosely track my progress without a formal record sheet.
There's simply nothing like living life by knowing and applying God's word. Doing so on a daily or regular basis helps us draw near to God, allows us to know God's heart, and leads us to love others in the way he intends us to love them. In the same way that a User Guide helps us to get the most out of a product, the Holy Spirit uses God's word to get the most out of our relationship with God and others, and to get the most out of life.
May God lead and guide us in the fullness of an abundant life in Christ during 2022 and beyond. Amen!