Last Saturday my wife and I were enjoying a relaxing afternoon. We were working together on a puzzle spread out across a table that we have set up for this purpose. This is one of the few activities that gets my mind completely off almost anything else. I tend to get lost in puzzles, and I often don't notice the hours as they pass.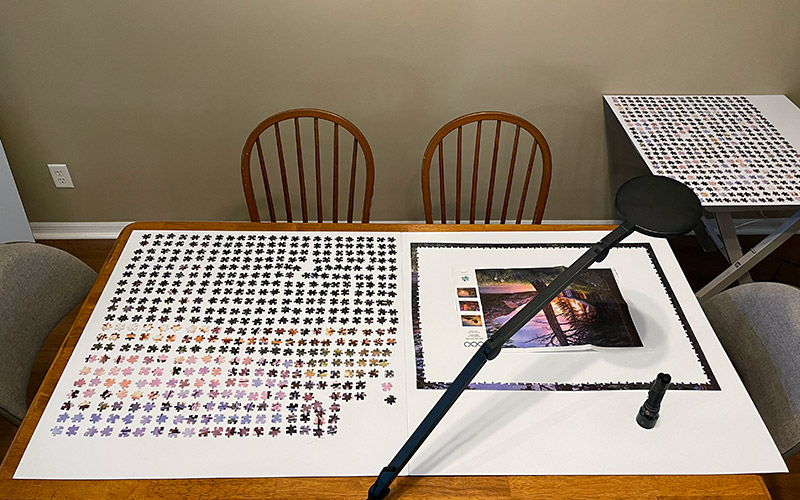 As is almost always the case, I had my emergency phone within arm's reach. As I leaned over to place a piece of the puzzle, my iPhone's notification sound rang out. The message was marked, "Urgent."
After making initial contact, I had to wait a while before learning the details of what was unfolding many thousands of miles away. While waiting, I pulled up my usual Incident Response Sheet. This is a detailed document I developed a number of years ago. It helps me and others to know what information is necessary to record, and what action steps should be taken as things develop at a fast pace during a security incident.
Anyone who receives emergency calls involving people located overseas can likely tell you that one of the most difficult things to deal with is the waiting. Knowing that someone is in trouble and that time is passing as you wait for important details can be excruciating. As I waited, I looked over my detailed Incident Response Sheet. As I did so, I wondered if a far less complex version might be helpful to the Panoplia.org community, and so I developed the one below.
Anyone can become involved in a security incident anywhere in the world. It's important for the individual or group involved to know what information is most important when calling in an emergency. It's one thing to simply dial 911 and follow instructions, yet what if this service is not available? What if you need assistance during a crisis situation when none of the emergency services we normally depend on are operating?
For individuals or teams serving in high-risk overseas locations this scenario is not unusual. For this reason we've developed protocols that have worked well for years. We hope these are never necessary in the West, yet one never knows what the future may bring. This being the case, it's wise to think ahead and to train those you love. Training them to memorize exactly what information to quickly share with you during a crisis when no one else is coming to their aid is an important skill to develop. Sharing the right information quickly is key because during such times contact may be very limited for a number of reasons.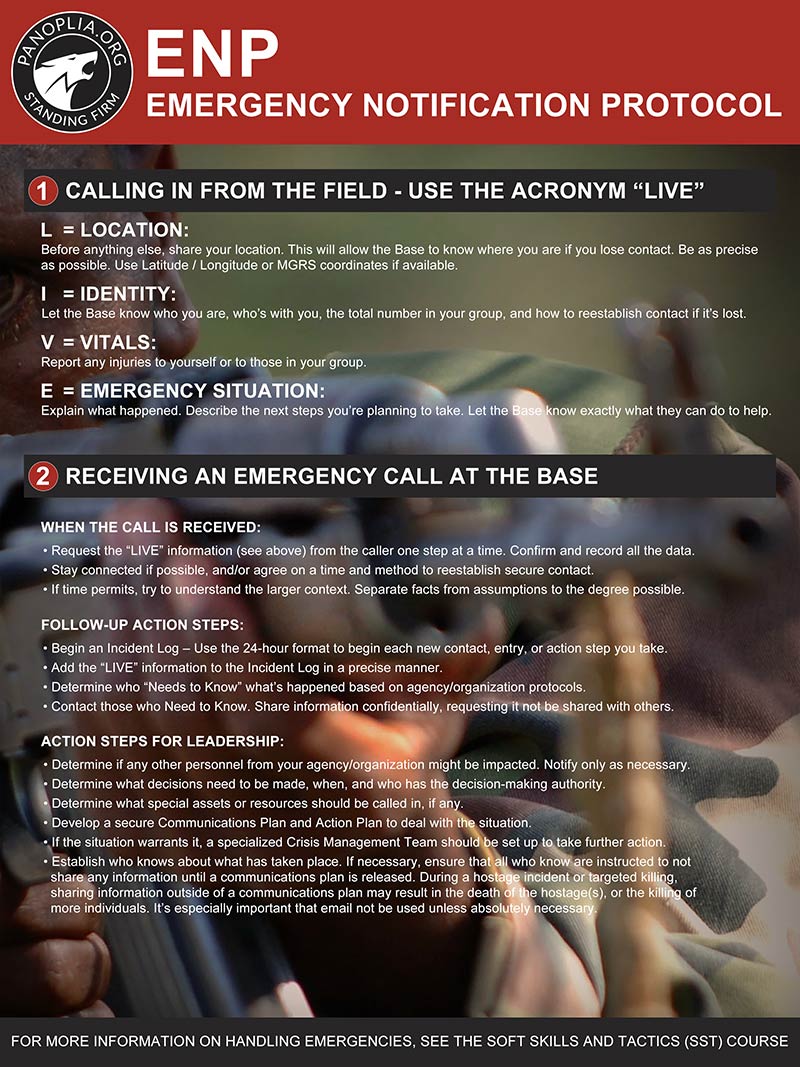 In order to help you train your loved ones, we developed the one-page document shown above. You can download a full-size PDF version by clicking here.
The term "Base" refers to the concept we use in the Panolpia.org Soft Skills and Tactics (SST) course topic 02.03.02 (Base-Monitored Movements). The "base" in question might be a complex Global Security Operations Center monitoring high-risk movements involving several overseas teams. The "base" might also be you with your mobile phone when you agree to track your adult child during some unusual travel.
In either scenario, learning the acronym "LIVE" will help the person who contacts you during a crisis convey the exact information that will help you reach or otherwise assist them as quickly as possible, or for you to arrange for someone else you trust to do so. It will also help you know what to ask, and in what order, if they forget the acronym under duress.
We hope you find this helpful as a training aid, and that no one you love ever needs to make use of it. As for the situation about which I was notified this past weekend, those involved are out of immediate danger, yet remain in a very challenging situation. We'd appreciate you praying that this will be resolved soon. Thank you!