There's a battle raging around us that few see or understand. It's a war for the souls of men, women, girls, and boys. It's been raging since time began, and is intensifying as the return of Christ draws ever closer. Whereas God desires all to be saved and to know the truth, the enemy desperately longs to keep as many as possible blindly under his control or influence. As God said to Cain in Genesis 4:7 (NIV), "Sin is crouching at your door; it desires to have you…"
One of the most powerful images that informs my life and choices can be found in Revelation 17:14. This speaks of the very end of times when the enemies of God will seek to destroy Jesus and those who love him. In the ESV, this verse says:
They will make war on the Lamb, and the Lamb will conquer them, for he is Lord of lords and King of kings, and those with him are called and chosen and faithful.
This verse does not depict the scene of a blockbuster movie. This is a real battle that will take place in the fullness of time. Think for a moment about those who are with Jesus during this battle. Their qualifications are listed. They are the called, chosen, and faithful. Jesus alone knows who they are and why they were chosen. But one thing is clear. Neither they, nor we, have any control over the first two qualifications. We do, however, have control over the third, and this is why this image informs my life and decisions. With all that I am I desire to remain faithful to my Lord, and thus to be among those who may at least be considered for the honor of fighting by His side when that day comes.
This brings us back to the war that's raging now. Satan has power over those who are not trusting in Jesus for salvation. Those who have not received Jesus as Savior and Lord are under his control. The greatest deception of all time is the fact that these individuals do not perceive their circumstances. They blindly believe that they are in control of their own life and destiny. There will be a day, spoken of in Revelation 1:7, when they will see clearly. At that point they will experience the deepest mourning ever known. This is what motivates Christ followers to share our faith, so that as few as possible will find themselves overcome with sorrow and regret on that day.
On that day genuine Christ followers will not mourn. We will rejoice at the return of our Lord. And yet, until that day dawns, we too face constant warfare. The same enemy who controls those who have rejected Jesus has a powerful influence over the world in which we now live and move. Our spiritual enemies make use of the world to temp us into sin. They seek to draw us away from being faithful to the Lord. Although the enemy has no ultimate power over our salvation, he does have ways to make us ineffective and to load us down with burdens and guilt. This spiritual warfare is a central theme throughout the Scriptures. From Genesis to Revelation, the faithful are shown to be the chief targets of the enemy. Consider 2 Timothy 3:12 (ESV). In this verse, Paul writes to Timothy:
Indeed, all who desire to live a godly life in Christ Jesus will be persecuted.
This is a brief sentence that conveys profound insights. The word translated into English here as "persecuted" is the Greek word "diōkō." The literal meaning of the word is to pursue with hostile intent. It's used more than 40 times in the New Testament. In other words, this verse can be understood to say that those who seek to remain faithful to Jesus will be pursued with hostile intent. The one pursuing Christ followers is clearly identified in many verses, including in 1 Peter 5:8-9 which in the NIV reads:
Be alert and of sober mind. Your enemy the devil prowls around like a roaring lion looking for someone to devour. Resist him, standing firm in the faith, because you know that the family of believers throughout the world is undergoing the same kind of sufferings.
This brings us to the purpose of the image shown at the top of this page. The fishing lure represents the temptations that our enemies use to lure us away from faithfulness and into sin. They have generations of experience. They know the weaknesses of humans, and what will work to entice us to bite. Like an expert fisherman, they know exactly how and when to throw a lure into our path and to work it just right so that the instinct embedded within our fallen human nature will cause us to be attracted, and to chase the bait. As is the case with the fish pictured, those who take the bait, no matter how beautiful it looks at first, will find themselves in trouble. They will be overcome with regret and will be gasping for air.
As is true with fish, different bait or lures catch the eye and attention of different individuals. Our enemies try many lures on us until they find one that works. Perhaps it's the desire for wealth, status, or power. Or perhaps it's an individual other than our spouse who's pleasing to the eye and who seems to adore everything about us. She or he seems like the answer to all our needs, and promises happiness and contentment. No matter what the lure, it always seems irresistible. It's only after some time that we realize the terrible consequences of taking the bait.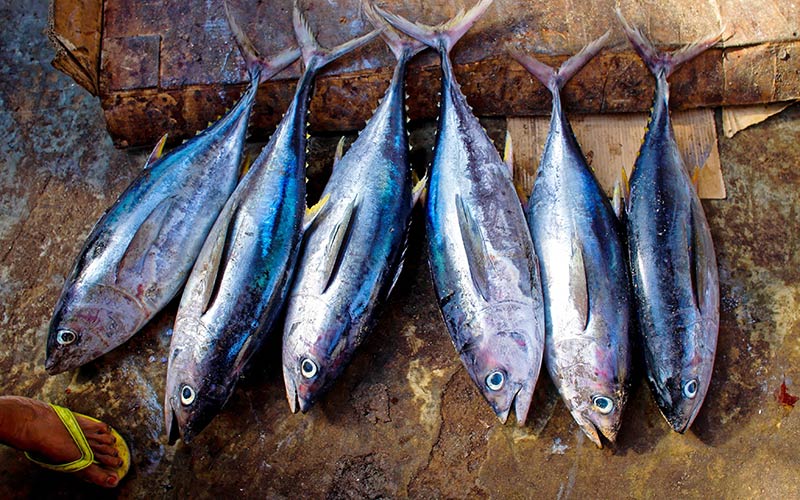 It's important for us to know that God is always there for us when we are tempted if we want him. 1 Corinthians 10:13 (NIV) says:
No temptation has overtaken you except what is common to mankind. And God is faithful; he will not let you be tempted beyond what you can bear. But when you are tempted, he will also provide a way out so that you can endure it.
Let's be clear, we have all fallen. We have all required the Lord's forgiveness for taking the bait many times. And yet, falling prey to some lures involves deeper consequences than others. This is especially the case with crime. It's also the case with faithfulness in marriage. On a daily basis families are torn apart when a spouse is lured into an extramarital relationship. The damage in such cases can last a lifetime for all involved. Let's do all we can to remain faithful to our spouse, and especially to our Lord.
One of the best ways to avoid taking the bait is to spend time in God's word and in prayer. Let's ask God to examine our hearts and to show us where we are weak. Let's ask him to help us perceive temptation as soon as it appears, and to strengthen us so that we will not follow the lure as it's reeled in by our enemies. Let's also seek the help and guidance of fellow Christ followers. Sharing our temptations with other believers in a trusted setting can be among the most powerful ways to overcome them. After all, the enemy loves to work in secret.
There's a very powerful spiritual principle that we hope to talk more about in a future post. That is, the more times one takes the bait, the more influence the enemy has over us. Conversely, the more times we see the lure for what it is and remain faithful, the less influence the enemy has in our lives.
As we are tempted, let's keep three images in our minds. First, picture those who are called and chosen to fight against evil at the Lord's side. They are not perfect, yet they are faithful. Second, let's picture the fish that only realizes he's been duped when he's pulled from the water, is staring his enemy in the face, and is gasping for breath. Finally, let's picture the face of our enemies when they see that their efforts to lure us into sin have failed. Now that's a picture worth a thousand words.
May God strengthen and empower us as we seek to remain faithful to him, and may we know his forgiveness and restoration when we fall and take the bait. Amen!