This week our neighborhood hosted a gathering. This was a great opportunity to meet families who've recently moved into the area, and to catch-up with neighbors we've known for years. Part of the event included three local law enforcement officers who spoke about security.
One of the Officers mentioned how important it is these days to have security cameras. For a very reasonable cost one can now monitor and record activity outside his or her home. Security Cameras systems range in price from a hundred dollars or so to many thousands depending on their complexity and capabilities. No matter what type of system is chosen, it's helpful to know what's happening outside one's home in real-time or after-the-fact.
About five years ago we installed a few Ring cameras around our home. These allowed a live view on our phones, computers, and just about any other digital device. The Ring subscription service we chose recorded footage online. It was available for us to review for 60 days. It's important to note that the Ring service we had did not record continuously. It took a snapshot every few minutes or so.
We recently noticed that the fruit on one of our mango trees was gone. This was certainly not a huge security issue, yet we wondered what happened. Did the stealthy racoons that live in the woods behind our home undertake a night operation to gather and enjoy our mangos, or did something else happen? We found the footage on our Ring online account to be unhelpful. One image showed the fruit on the tree, and in the next shot taken a few minutes later the fruit was gone. We had no way of knowing what happened.
Missing mangos are one thing, but we thought to ourselves, "What if a serious security incident took place and there was no Ring footage to help us determine who was responsible?" A few weeks later we were notified that our annual Ring subscription was up for renewal. We decided then to cancel it and to investigate alternative systems.
Our Son is a Digital Security specialist. We knew that he had installed a security cameras system of his own, and so we drove over to check it out. We were really surprised by what we learned.
First, the security cameras our Son uses are what's known as PoE. This stands for "Power over Ethernet." Rather than being connected to the Internet by WiFi and powered by batteries as is the case with the Ring system, PoE security cameras are powered through the ethernet wire that connects them to a base unit. The base unit, known as a Network Video Recorder, or NVR, not only powers the cameras, but also stores the recorded footage. This can be set to record continuously. In other words, we would have been able to see exactly what happened to our mangos. Far more importantly, for those who have such a system in place serious security incidents can be viewed, and the footage can be saved as evidence. With an NVR system there is no subscription plan necessary.
One advantage of a system like our Son has in place is that it does not depend on WiFi or the Internet. When we had our Ring system, every time the Internet went down, which is common in our area, our security camera system was offline. This is not the case with a "self-contained" PoE system connected to an NVR. As long as the NVR has power, the system is up and running.
A PoE system connected to an NVR does not have to be connected to the Internet. However, there is an option to do so. Connecting the NVR to the Internet allows one to view live or recorded footage on just about any digital device. This is especially useful for those who travel a great deal. Of course, connecting one's system to the Internet includes some degree of risk. When disconnected it's a private system. When it's online it's protected by passwords, etc., yet there is always the very remote possibility that it can be hacked, even without one's knowledge.
The other thing we were really surprised about when we reviewed our Son's security camera system was the quality of the footage. It records in 4K. The video footage was stunningly clear. There was a very noticeable difference between this and the Ring system we had in place until last month.
There are far too many choices with regard to manufacturers and features to mention here. For the time being, we'll simply share what we ended up with, and offer a full review after a year or so of service.
Like our Son did, we chose a manufacturer called Reolink. We purchased four PoE cameras and a RLN8-410 NVR. The camera shown in the image at the top of this page is a RLC-811A. This is a 4K camera with a spotlight and night vision. It allows one to zoom in 5x. We installed this on the front of our home, about twelve feet above the ground. The 105-degree wide-angle lens covers a lot of area.
For the back of our home we chose the Reolink Duo 2 PoE as pictured below.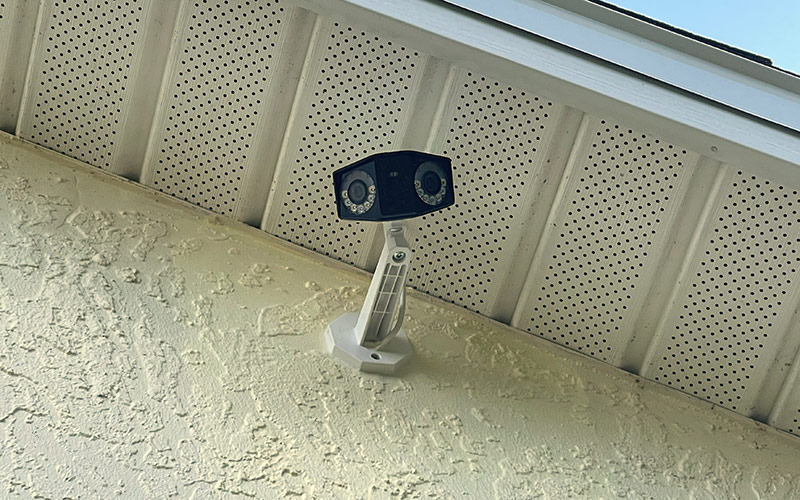 This is a dual-lens, 4K camera. It's mounted about 14 feet above our deck. The two lenses work together to view a full 180 degrees. The system combines the two images into one. This allows us to see our entire backyard as well as a portion of the back of our house. The coverage and clarity are outstanding.
We installed a RLC-842A camera on each side of our home. The image of this camera below is from the Reolink website.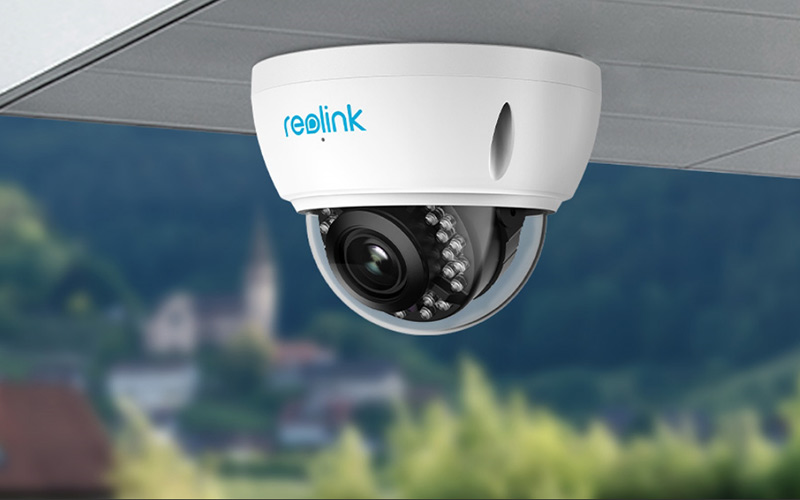 We chose these for the sides of our home because they're mounted only eight feet off the ground on our soffits. These are quite small. Tucked up into the soffit one really has to look to see them. These offer a full view along the sides of our home.
These four Reolink 4k cameras are connected by ethernet to our NVR in the office. This is backed up in case of a power outage. We purchased an inexpensive TV that's connected to the NVR via an HDMI cable. This allows us to monitor the system without it being connected to the Internet. We can connect and disconnect to the Internet at any time by simply plugging an ethernet cable from the NVR to our ATT modem. This allows us to view the system when traveling. Otherwise we keep it as a self-contained system not connected to the Internet.
We plan to offer more details about this system in a future post. And as noted, we have set a reminder to write up a full review after a year or so. In the meantime, we are pleased with this system after a month or so of getting used to it. Let us know in the Comment section below if you have a wired or wireless security camera system that serves you well.
As always, remember that Panoplia.org has no affiliate relationships with manufacturers or retail suppliers, nor do we participate in third-party advertising. We simply share our views about gear and supplies that work well for us under hard use.