For decades we've depended on some amazing gear. We've been able to test numerous products while residing long-term in, or traveling short-term to, some of the world's most challenging areas. Some of this gear has served is well for years, while other products have failed miserably.
As the holiday season approaches, we've used our last two Wednesday posts to highlight a few items that you may want to consider as gift ideas. These included a set of digital road flares, and a very small monocular. We continue the theme this week with a look at portable water filters.
We've been carrying a water filter since we first lived long-term overseas in 1986. We lived in areas where the municipal treatment of human waste was almost non-existent, and the population density was extreme. These two factors combined lead to water quality issues that must be addressed.
Thirty-five years ago we invested in an expensive Katadyn Pocket Water Filter. This robust unit was made of over a pound of ceramic and metal. It's lasted us all these years. We gave it away a few months ago to someone who did not have any filtration options.
More recently we've added other water filter options to our various Loadout Levels. For our Loadout Level 01 (LL-01), or Go Bag, we carry a Sawyer Mini. These are perfect for a Go Bag since they are tiny and weigh almost nothing. At about $20.00, they're also affordable. These have enjoyed a great reputation with hikers for years.
The one issue to be aware of with the Sawyer Mini is that it takes a good deal of time to filter water with such a small unit that depends on squeezing a bag or sucking hard through a tube. It's a great emergency option, yet we would not recommend it as a choice for a long-term, grid-down scenario that demands a great deal of water filtration.
For our Loadout Level 3A (LL-3A), or Portable Survival backpack, we've chosen an MSR MiniWorks EX Microfilter. This unit is eight inches tall and weighs about 15 ounces. Even with the rubber inlet tube that's included, it's small and light enough for our LL-3A setup. This unit is built tough, and costs about $90.00 or so. Two outstanding features of this unit are the large handle that makes pumping the system quite easy, and the wide-mouth connection that allows one to connect the filter directly to Nalgene and other bottles as shown in the image below.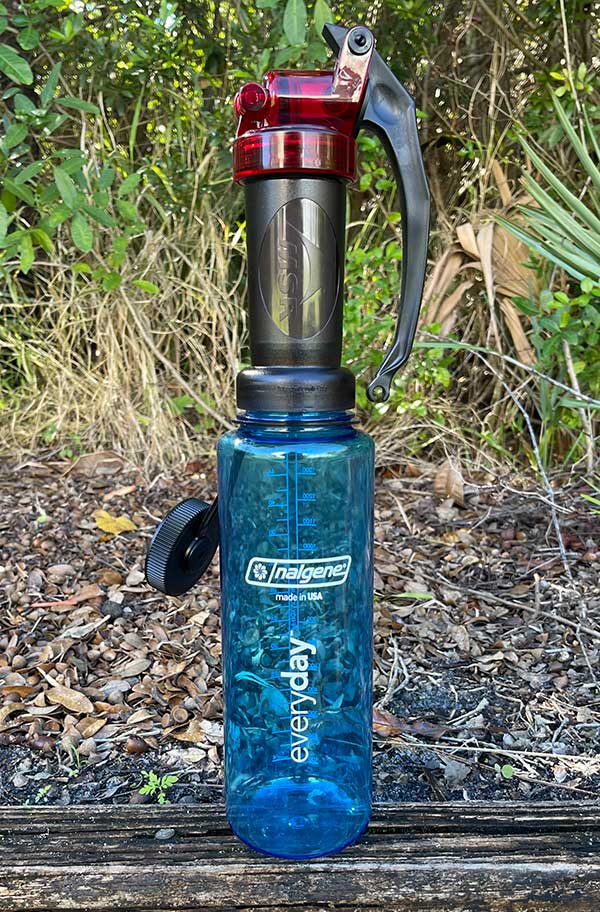 Using water bottles from other manufacturers is an option. In addition, MSR itself offers several water storage bags with the same wide-mouth opening as the Nalgene bottles. They offer a Dromedary and DromLite series. The former are very robust bags, and the latter are a bit lighter. These hold between two and ten liters of water depending on the series chosen.
Water Filters vs. Water Purification Units
We've only ever carried high-quality water filters. These remove waterborne protozoa and bacteria, but not viruses. Generally, viruses are dealt with after the filtration process by either a UV light, or by adding specialized chemicals to the water.
MSR now offers a unit that filters out viruses as well as waterborne protozoa and bacteria. Known as the MSR Guardian Purifier, it's roughly about the size of the MiniWorks EX we have, yet is quite a bit more expensive. The Guardian sells for about $350.00. This page includes a series of videos introducing this amazing unit. Since we don't have one we can't recommend it at this time. We hope to purchase one soon for testing and evaluation.
We noted above that the Sawyer Mini is a great Go Bag emergency option, yet it's not suited to a long-term, grid-down scenario that demands a great deal of water filtration. The same can be said of any portable water filter or purifier. To learn about a larger filter for long-term use, please see our article titled "High Volume Water Filtration" that was posted on 28 October 2020.
No matter what high-quality brand you choose, we highly recommend having water filtration options for each of your Loadout Levels. After all, it's said that whereas one can go for weeks without food, not having access to water for more than a few days will make survival very difficult. We suggest that depending solely on municipal water delivery and not having a backup system is not a wise option, even in developed nations.
Feel free to tell us about your water filtration choices in the Comment section below. We'd value learning from your experiences.
As always, remember that Panoplia.org has no affiliate relationships with manufacturers or retail suppliers, nor do we participate in third-party advertising. We simply share our views about gear and supplies that work well for us under hard use.