These are difficult days. There's a growing sense among many Christ followers that good things are slipping away, and that unwelcome changes are coming at what seems like an unprecedented pace. Even among some who don't yet know the Lord there seems to be a growing sense of apprehension and sometimes despair setting in. Perhaps as a result, violent crime, drug use, and suicide rates are reported to be rising.
Given this atmosphere it's more important than ever for Christ followers to know the hope to which we have been called, and to reach out to encourage those who may not yet know this hope.
In Ephesians 1:17-19 Paul prays for believers. This prayer is recorded in the NIV with the following words:
I keep asking that the God of our Lord Jesus Christ, the glorious Father, may give you the Spirit of wisdom and revelation, so that you may know him better. I pray that the eyes of your heart may be enlightened in order that you may know the hope to which he has called you, the riches of his glorious inheritance in his holy people, and his incomparably great power for us who believe.
There's a lot packed into that prayer. We'll likely address some of this in upcoming posts. For now, let's focus on the request that believers would know the hope to which we have been called.
In New Testament Greek the word for hope is "elpis." The literal meaning is to anticipate. It's generally used to express the joyful and confident expectation of that which is to come. So what is to come for believers?
The Bible is very clear that one day the world as we know it will come to an end. Leading up to this, people and society will grow worse and worse. This is described in 2 Timothy chapter three and elsewhere. Things have become so bad lately that some wonder if the end is now near.
There are many things that are unclear in Scripture, some intentionally. For example, as recorded in Matthew 24:36 Jesus teaches that we cannot know the timing of when the end will come. He does tell us in verse 42 of the same chapter, however, that we are to keep watch and to be ready. What is perfectly clear is that Jesus will return before the end. This is mentioned in many Bible passages including Acts 1:9-11. In the NIV this reads:
After he said this, he was taken up before their very eyes, and a cloud hid him from their sight. They were looking intently up into the sky as he was going, when suddenly two men dressed in white stood beside them. "Men of Galilee," they said, "why do you stand here looking into the sky? This same Jesus, who has been taken from you into heaven, will come back in the same way you have seen him go into heaven."
The fact that Jesus will return is also highlighted in Matthew 24:44, Mark 13:26, Luke 21:27, John 14:3, Hebrews 9:28, Revelation 1:7, and elsewhere. One of the clearest verses on the return of Jesus is found in 1 Thessalonians 4:16-17. This reads:
For the Lord himself will come down from heaven, with a loud command, with the voice of the archangel and with the trumpet call of God, and the dead in Christ will rise first. After that, we who are still alive and are left will be caught up together with them in the clouds to meet the Lord in the air. And so we will be with the Lord forever.
This passage describes in vivid detail the hope we have as believers. Yes, this world will go from bad to worse as time goes on. And yet, at some point Jesus will come for us.
On a particular day known only to God everything we've ever known will suddenly change. We will be going about our business in this broken, sick, and fallen world, when suddenly the Lord will appear in the sky. He will gather genuine believers to himself, and we will be with him forever. This is not speculation or the things of movies. This is our hope. This is our expectation based on promises found throughout Scripture. When you feel discouraged, close your eyes and picture that glorious Day. For as sure as the sun will rise tomorrow that Day will come, and it's closer today than it was yesterday.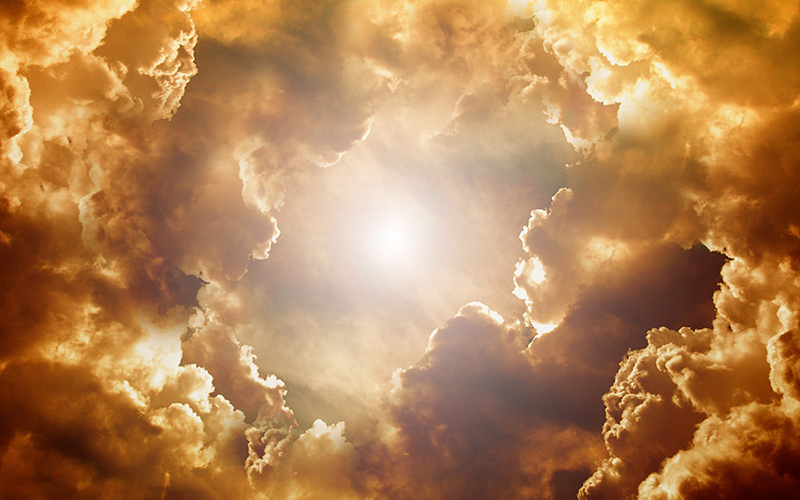 There is debate among sincere theologians as to whether the return of Jesus will take place before, during, or after what's known as the seven years of Tribulation. This is a period of unprecedented distress that's mentioned in Mark 13:14-19, Revelation 7:14, and elsewhere. My view is that believers should hope to be removed before the Tribulation, but that we should be willing and prepared to endure whatever suffering the Lord would have us experience.
No matter how bad things get here, or what we have to suffer, we should be encouraged. We should live with the joyful and confident expectation of that Day which is to come. What's more, our being united with Jesus is just the beginning. We have eternity in heaven afterward to look forward to. What could be more encouraging?
In the meantime we wait. As Paul says in Philippians 3:18-20:
For, as I have often told you before and now tell you again even with tears, many live as enemies of the cross of Christ. Their destiny is destruction, their god is their stomach, and their glory is in their shame. Their mind is set on earthly things. But our citizenship is in heaven. And we eagerly await a Savior from there, the Lord Jesus Christ.
As we eagerly await the impending return of Jesus, let's encourage one another in our hope. Let's not allow the sin, hatred, and corruption of this world to drag us down into despair. Let's live to please the Lord with joyful and confident hearts, and let's do all we can to share our hope with others. After all, what could bring us more joy on that day when we see the sky open and Jesus returning than to know that those we most dearly love, and many besides, will be with us.
Be encouraged, Christ follower, no matter how bad things get here, everything will change at just the right moment.