For most of human history people had no way to communicate with those outside their immediate surroundings. This began to change with the advent of the telegraph in the 1830s. Today, it's common for people to have access to two forms of immediate, long-distance communication. This includes a mobile phone and the Internet.
The problem with depending on these two resources alone is that there are times when they simultaneously fail. Such failures may be the result of a natural disaster, civil unrest, or any number of other factors. For example, it has become increasingly common for governments to shut down public access to both the Internet and mobile phone networks during a political crisis.
For this reason, security specialists often recommend that individuals have at least a third option for communicating during a crisis. For years a satellite phone was the best option. Satellite phones are not dependent on a mobile network or an Internet connection. Instead, they communicate using an array of satellites in what's known as Low Earth Orbit (LEO). The problem with satellite phones is that both the phone and the service subscription tend to be very expensive. That's were solutions like the Garmin InReach come in.
The Garmin InReach is a two-way satellite messaging unit. It allows users with line-of-sight to the sky the ability to communicate to the outside world from any position on earth using the Iridium satellite network. The InReach units cost about $450, and the base subscription costs about $150 annually. Especially for those who travel internationally, this is a small price to pay for the ability to communicate from almost any location on earth.
Setting up a Garmin InReach Device
Once an InReach unit is purchased, one needs to set up their Garmin Explore account. The first task is to choose a subscription plan. These range from the Consumer Safety Plan at $11.95 per month, to the Pro Unlimited Plan at $64.95 per month. The various plans offer a variety of options. We've found that the least expensive plan works well for emergency use.
The next step is to login to one's Garmin Explore account to set up a contact list and the preset messages. The three preset messages allow one to "check in" with selected individuals on their contact list. You can set up the three messages to say what you would like within 160 characters. The way I've set up my messages can be seen below.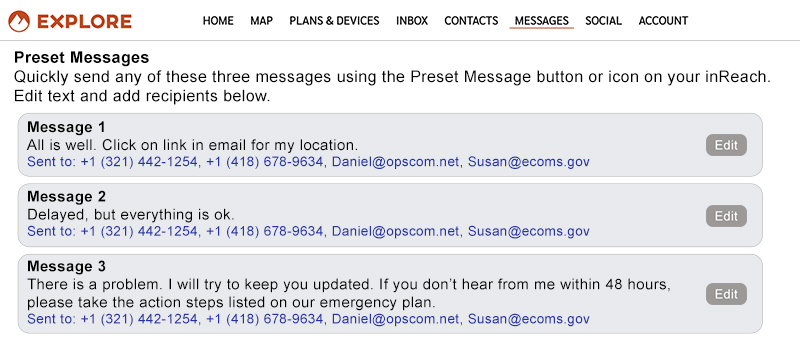 Each of the three check-in messages can be set individually to send information to those whom you choose from your contact list. We recommend using your third message as a first-level emergency message. The decision of who should receive the emergency message should be part of your Risk Assessment and Contingency Planning (RACP) process and documentation. This should include an emergency plan with action steps to be taken. Please ensure that anyone listed to receive an emergency message is aware that they have been listed, may receive an emergency message at some point, and knows what steps to take if they do.
Note that the three messages and the contacts can be easily changed and updated for specific situations. Even if one pays for the least expensive subscription plan, the use of preset check-in messages is unlimited. There is also the option to create and send real-time messages using the InReach itself, or by setting up a Bluetooth connection to an App on one's smartphone. The least expensive subscription plan limits these to 10 per month, and charges extra for overages.
Benefits if Using a Garmin InReach Device
Aside from the ability to communicate from almost anywhere on earth as long as one has a clear view of the sky, the messages sent by an InReach unit include a link to a map with one's current location. The resulting link shows the latitude and longitude, as well as the exact date and time the message was sent. This is especially useful in determining one's last known location during an emergency. If contact is later lost, those who receive the initial message have an exact location to begin a search.
During an emergency situation, having one's accurate last known location can mean the difference between life and death. Given the relatively low costs involved, this technology is nothing short of amazing. Less important, yet still a serious benefit, is the ability to keep the individuals on one's contact list updated and informed on a regular basis. It's hard to place a price on the peace of mind that this ability offers.
The SOS Feature
InReach units have a covered "SOS" button. These are intended for emergency use. When pushed, a subscriber is connected to Garmin's "International Emergency Response Coordination Center," or IERCC. The IERCC personnel will attempt to communicate with the subscriber using the two-way messaging capabilities of the InReach unit.
If a medical rescue is necessary, the IERCC will contact the authorities or emergency services closest to your current location. If IERCC personnel are unable to communicate with the subscriber via the InReach unit, they will attempt to get in touch with the individuals on the subscriber's Explore Account contact list for more information. If they are unable to contact the subscriber or the listed contacts, they may choose to initiate an emergency rescue.
The IERCC is not a rescue service. They are an emergency assistance service that acts as an information source between the subscriber and available emergency services. They have established relationships with rescue services in numerous countries in case an SOS button is pressed by a subscriber while located outside his or her home country.
It's very important to understand that the costs associated with an emergency rescue may be substantial. A rescue, especially an international rescue, may result in hundreds of thousands of dollars in charges in some cases. A Garmin subscription is intended to cover a certain portion of these costs. Extended coverage is also available for an extra fee. However, one needs to read the "fine print" concerning these contracted coverages. There are many situations listed for which no coverage will apply. In addition, the coverage seems to be limited to injuries that take place only during "recreational activities."
For these reasons, we recommend that subscribers take the time to clearly understand the possible costs associated with pressing the SOS button. We suggest that individuals use the preset or real-time messaging capabilities of an InReach unit rather than the SOS button unless an emergency rescue is necessary and one understands that substantial costs may be involved.
Final Recommendations
The InReach unit comes in two sizes. These are the InReach Explorer and the InReach Mini. Garmin's website outlines the exact specifications of these units and the options available for each. We recommend the Garmin InReach Mini 2 for international travel. This is a small unit with outstanding capabilities.
Click here for a one-page PDF document you can download with instructions on how to send messages with a Garmin InReach Mini 2 device.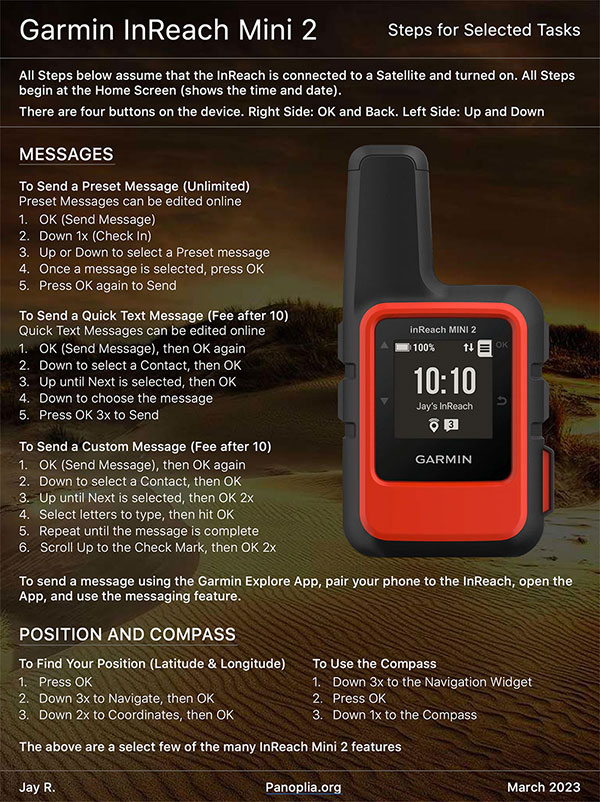 It should be noted that some countries prohibit the use of any satellite technology within their borders. We therefore recommend that international travelers do their research before purchasing an InReach unit.
The bottom line is that we highly recommend an InReach unit as a third level of communication that can be used in emergency situations. For most of human history the technology these units offer was unavailable to anyone at any cost. Having the ability to communicate globally when the Internet and mobile services are not available is an amazing benefit. Being able to do so at the costs of an InReach device and basic subscription plan is almost unbelievable. We recommend that anyone traveling internationally consider purchasing and training with an InReach unit.