I shared in our last Saturday article the fact that my son-in-law was recently involved in a serious automobile accident. On a dark, very wet and rainy night in late October he was stopped at a red light. Without warning, a sports car slammed into the rear of the car my son-in-law was driving. He was hit so hard that his car was slammed into the vehicle stopped in front of him. The force of the impact was so incredible that the car my son-in-law was driving ended up being a total loss based on the astonishing amount of damage to the front of his vehicle. By God's grace, he was uninjured.
In the aftermath of the accident, my son-in-law's vehicle ended up being positioned in a busy turn lane. As he and a few kind volunteers tried to push it off to the side, it was evident that other drivers were having a difficult time seeing them as a result of the intense rainfall. At least one involved in the process of moving the vehicle asked if anyone had road flares to help alert other drivers of the situation. No one did.
My son-in-law did not have any kind of emergency kit in his vehicle. By contrast, I've set up a roadside assistance kit for my own vehicle that was featured in an article posted on 10 February 2021. You can read that article by clicking this link. When I set this kit up, I thought about including road flares. The reason I did not was that I didn't want anything that might be flammable in with the large battery that runs my Ryobi Power Inflator.
After the accident took place and the fact that road flares would have helped a great deal became clear, I started looking into alternatives to the traditional road flares that are at least to some degree flammable. I found that there are many digital road flares available. With this in mind, I took the following two steps.
First, I purchased a set of USB Rechargeable LED Road Flares. This link will lead to the set I purchased on Amazon for about $25.00. I like that they are rechargeable. I will simply add them to my list of digital items that I charge every three months. I also like that they have eight or so flashing modes, and that they include a magnet so that they can be placed on one's car as well as on the road.
Although I've not had these long enough to test them, and thus can't at this time offer a recommendation, the build quality looks decent. I can say that they are very bright, and that they seem to cycle through the flashing modes without an issue as one presses the power button repeatedly.
The second step I took was to build a basic roadside assistance kit for both my son-in-law and my son. I plan to give these as Christmas presents. The image below shows the kits as they stand so far.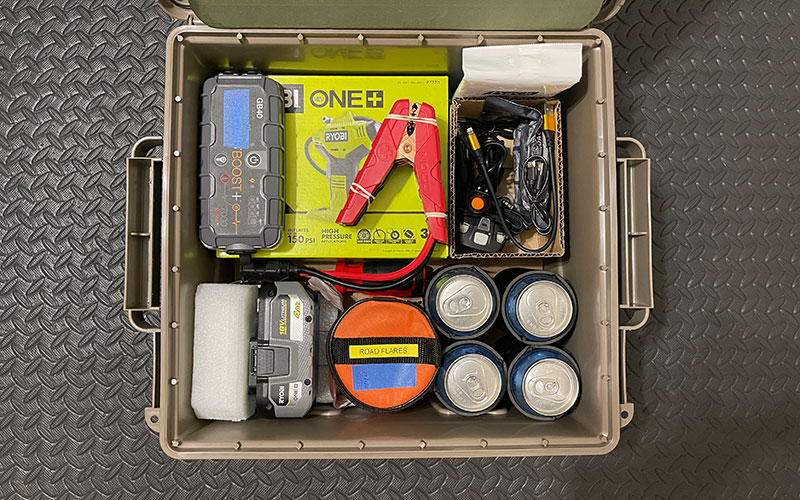 The kit includes the set of three road flares shown in the orange case front and center. The orange zipper-case is included with the flares. I've labeled them and placed some blue painter's tape on them to track charging dates. I've also included a Ryobi Power Inflator, a four-amp-hour Ryobi battery, and a NOCO Boost GB40 jump starter. The battery and the NOCO also have blue tape on them for listing the charge history.
Finally, I've also included a few cans of "Blue Can Water" that have a 50-year shelf life, an SOS Food Labs 3600 Calorie Rations pack (under the Ryobi Battery) that's designed to take the heat and cold of a car trunk and last for at least five years, and a few electronic items. These include a headlamp, a flashlight, and a charger and cables that allow one to charge items like a mobile phone using the 12-volt outlet present in most vehicles.
The kit also includes a mat to kneel on when working on tires, and a set of gloves not shown. Purell hand wipes and a Craftsman Quick Change Screwdriver round out the list of contents in the kit. The items are housed in a MTM ACR8-72 Ammo Crate Utility Box. The total set-up weighs in at about 17 pounds and measures 19x15x8 inches.
I often say that one of the best ways to learn is vicariously, or from the mistakes of others. The importance of having road flares in one's vehicle was learned by our family the hard way. We hope you can learn from us and avoid not having these if or when you need them.
Let us know in the Comments section below if there are other items you'd recommend we have in this emergency roadside assistance kit. Learning from your experience would be valuable to us.