Like us, you probably have Location Services turned off on your smartphone's camera settings. If not, geolocation information is likely stored with your images. Sharing an image with this information embedded can reveal exactly where and when the image was taken. For security reasons that should be obvious, we recommend that you disable this feature. To do so on an iPhone simply go to Settings, Privacy, and then Location Services. Scroll down to the Camera setting, and select the "Never" option.
There are times, however, when it would be helpful, or even critical, to know the context in which an image was taken. For example, if you're involved in a vehicle accident it would be helpful for insurance purposes to know exactly where it took place. The precise time and date might also be important to know. If you serve in a security role, having the date, time, and exact location for an image you take can be very helpful.
As an example, let's say that you were involved in an operation in which members of a militant group were captured or killed, and weapons were recovered in the process. You may have to be in and out of the area as quickly as possible. Taking photographs of the immediate area can be useful for an operational debriefing. Knowing the exact context in which each image was taken can be very helpful.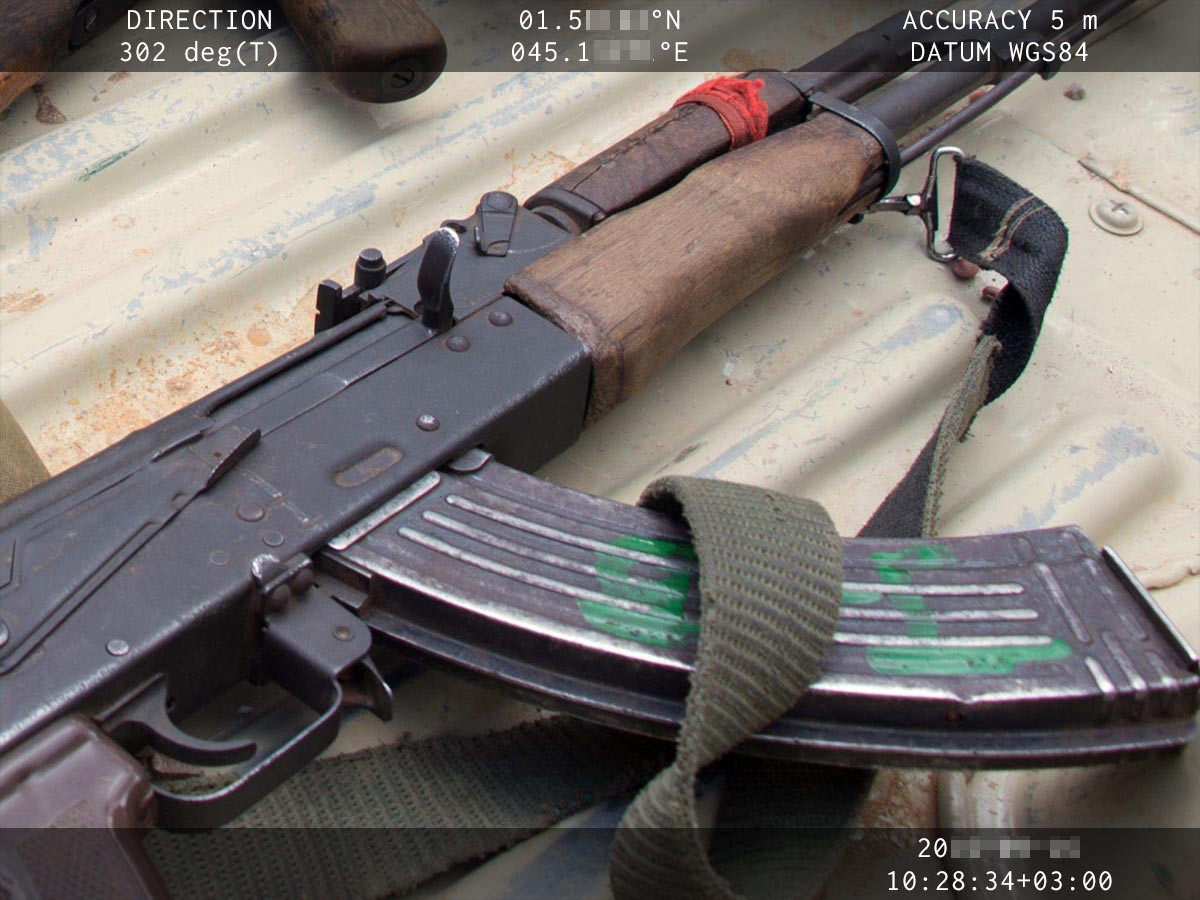 The simulated image above demonstrates some of the capabilities of a smartphone app known as Context Camera Pro. As you can see, when the image is captured the app instantly overlays a great deal of useful information. This includes the exact date, the time relative to GMT, the latitude and longitude, the direction in which the individual taking the image was facing, and the geolocation accuracy level. All this information is shown on your screen in real-time as you prepare to take the image. This is helpful since various angles may improve the geolocation accuracy level.
I've been using this App since August 2016. I've used it for hundreds of images, and have found the encoded information to be accurate. I tested it again just this week. I took an image outside my home. The Context Camera Pro image noted that the accuracy level was 5 meters. I then entered the latitude and longitude information into Google Maps. The location point returned was almost exactly five meters from where the image was taken.
The image below shows some of the many settings that can be customized to suit your particular requirements or those of the agency you serve. The settings in the image above represents the default settings. Time permitting, one can make notes that will also appear on the image. I've not used this feature, yet it's good to know that various other features are available if necessary for a given situation.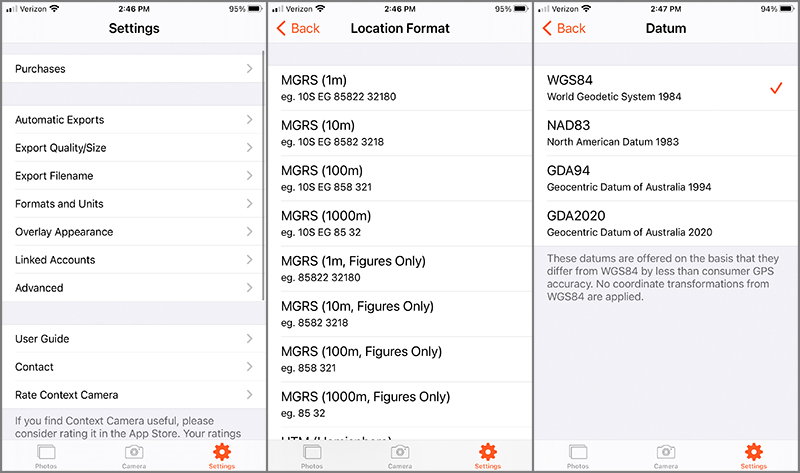 The screenshot below is from the Apple App Store. As noted, Context Camera Pro costs $16.49. This is a one-time fee. The version I purchased over four years ago has been upgraded periodically at no extra cost.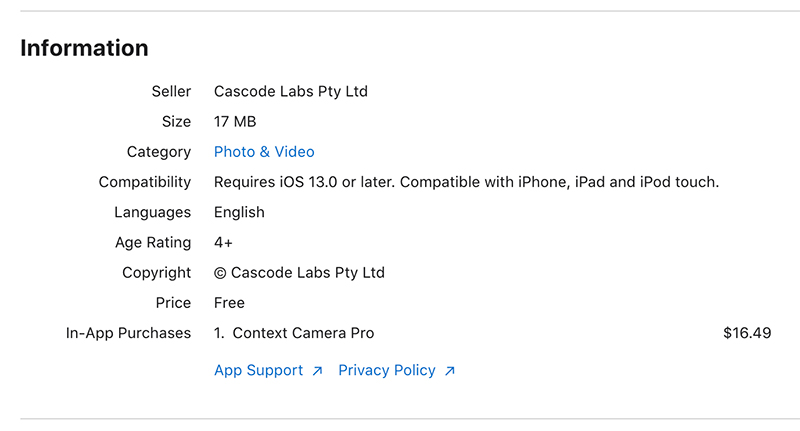 Context Camera Pro is one of those simple solutions that does exactly what you need it to do when you use it. It's been helpful to me a number of times over the years. One example is after our roof was damaged during a hurricane. After going on the roof to survey the damage, I used the Context Cam to take an image that we sent to our insurance company. The information provided by the image proved helpful to the agent.
We highly recommend this App for anyone, especially for those who serve in a security role. At less than $20.00 it's a great value at any time. It may also be the perfect Christmas or other special occasion gift for the tactical person who has just about every other piece of gear or equipment out there.
If you'd like to give this app as a gift and you don't have access to the person's Apple account, consider saving (right click) and printing the image below and wrapping it. You can then transfer the funds to him or her through another means.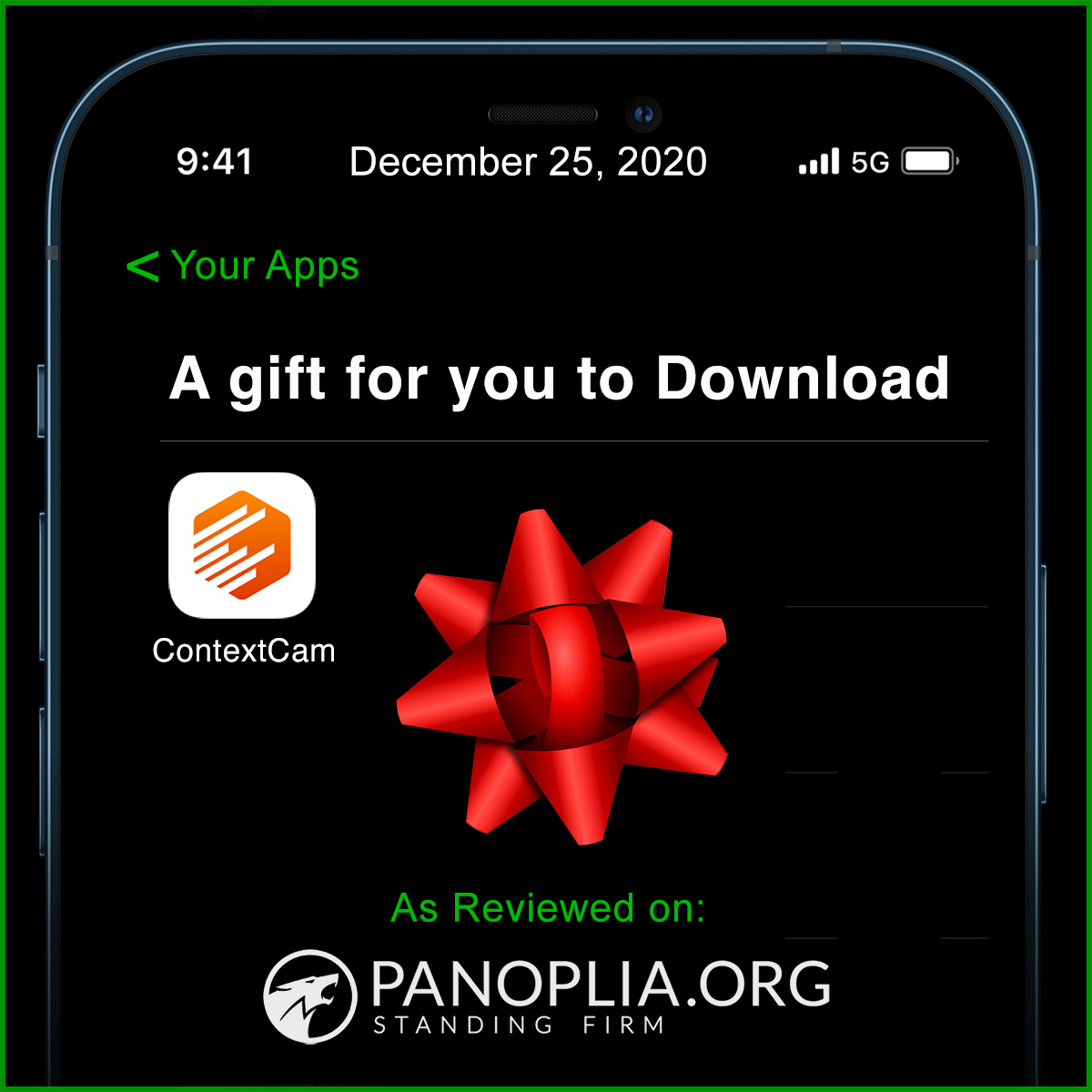 As always, remember that Panoplia.org has no affiliate relationships with manufacturers or retail suppliers, nor do we participate in third-party advertising. We simply share our views about gear and supplies that work well for us under hard use.