In this week's security article (posted 07 April 2021) we noted how we'd neglected to charge a flashlight that was inserted into one of our chest rigs. By the time we realized our mistake, this important piece of gear had entered into a digital coma. It had a 0% charge and was useless for illumination. We described in the article how we set up a charging schedule to help ensure that this never happens again.
Modern tactical flashlights serve an important security function. They bring an amazing amount of light into a dark situation. The word of God, the Bible, is metaphorically spoken of in similar terms. For example, 2 Peter 1:19 in the ESV reads as follows:
And we have the prophetic word more fully confirmed, to which you will do well to pay attention as to a lamp shining in a dark place, until the day dawns and the morning star rises in your hearts.
And Psalm 119:105 says:
Your word is a lamp to my feet and a light to my path.
The world has always been a dark place through which people have had to navigate. Certain times in history seem to have been more difficult than others. Many sense that we are now entering an especially challenging season. Trying to navigate the world's darkness without God's word is like trying to operate in a completely dark environment without the aid of modern gear to illuminate our way.
Can people navigate the world's darkness without God's word? Certainly. And yet, just like trying to make your way through a dark forest without any light, navigating life without the light of God's word will cause you to stumble and fall. Some seem to do just fine. They even seem to achieve great success. And yet, at what cost? As Jesus said in Mark 8:36-38:
For what does it profit a man to gain the whole world and forfeit his soul? For what can a man give in return for his soul? For whoever is ashamed of me and of my words in this adulterous and sinful generation, of him will the Son of Man also be ashamed when he comes in the glory of his Father with the holy angels.
Whether or not we choose to acknowledge the fact, we've been created in the image of God. We have a soul and a spirit as well as a physical body. God created us to trust in him, live in his presence, and to navigate life spiritually by knowing and following the light of his word, the Bible.
We're taught in God's word that the first people, Adam and Eve, chose to sin. Everyone who came afterward, including you and me, have inherited a sinful nature. Jesus paid the price for sin. He invites us to receive his death on our behalf as payment for our sin. In doing so we're forgiven and reconciled to God. We're given God's word and the Holy Spirit to guide us through the darkness of this world until our time here comes to an end and we're welcomed into God's immediate presence.
Trying to live life without the guidance and light of the Bible and the leading of the Holy Spirit is like groping in the darkness. Those who run through this world making their own way are fooling themselves. At some point they'll find themselves lost and alone. They'll be like the five women spoken of in the Parable of the Ten Virgins. At some point they'll realize, hopefully not too late, that the light of God's word is the only way to successfully navigate this dark world.
I've never been especially skilled at land navigation in the physical world. Perhaps this is the reason I find myself needing the light of God's word on a daily basis. I see the Bible as a treasure, and I love opening it to see what's there for me each morning. I've recently started a new schedule that allows me to journey through the New Testament three times a year, and through the Old Testament at no particular pace.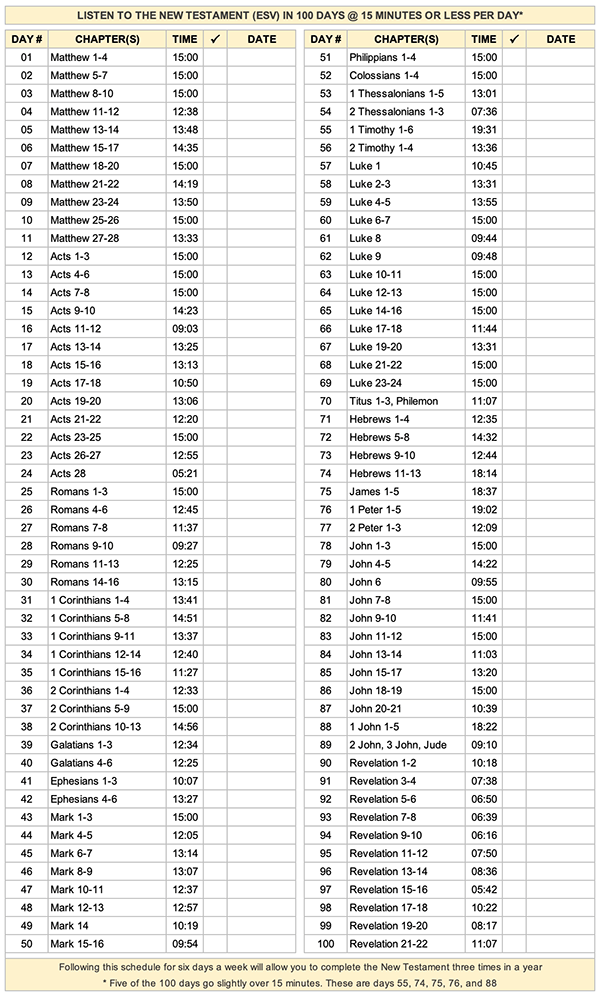 Clicking on the image above will open a PDF document showing the schedule I use. Feel free to use or adapt this as you like. The times are for listening, yet I find myself reading more than listening lately. If you prefer listening, there are a number of free Apps that make this easy. Simply search for "ESV Bible" or whatever Bible version you prefer on your smartphone's App service. I like using the App called Bible.is for listening, yet there are a number of other very good ones. Alternatively, you can download the entire New Testament in sound files (.mp3) by visiting this link. Various versions are available free.
We were able to "resurrect" the flashlight we noted above that had fallen into a digital coma. We simply charged it for several hours and it came back to life as good as new. As noted, we set up a charging schedule to help ensure that it's fully charge whenever we need it.
Setting up a schedule to be led by God's word helps ensure that we have a light on our path as we make our way through this dark world. There's little doubt that we'll need this as the end draws ever closer and the darkness grows increasingly thick. May God guide us as we faithfully look to his word as our chief navigation aid.