It's 3:14 AM. You're suddenly woken from a sound sleep by a loud noise outside and off into the distance. Within seconds the power to your home goes out, and you realize that a neighborhood transformer has blown. You decide to check things out in your home. In this scenario could you put your hands on a source of light that's fully charged within a few seconds, or would you be forced to grope around in almost absolute darkness to find one?
The same question could be asked about a scenario involving the proverbial "bump in the night." Even if you have a weapon-mounted light on your go-to firearm, a backup source of light that's fully charged and within reach can be helpful.
Over two years ago I purchased a Klarus XT11X and rigged it up so that it's within arm's reach when I'm sleeping. It's always plugged in, and thus is 100% charged at all times. This is part of my Loadout Level 04 (Residential Survival) that's covered in the Panoplia.org Soft Skills and Tactics (SST) online training course. The setup is shown in the image below.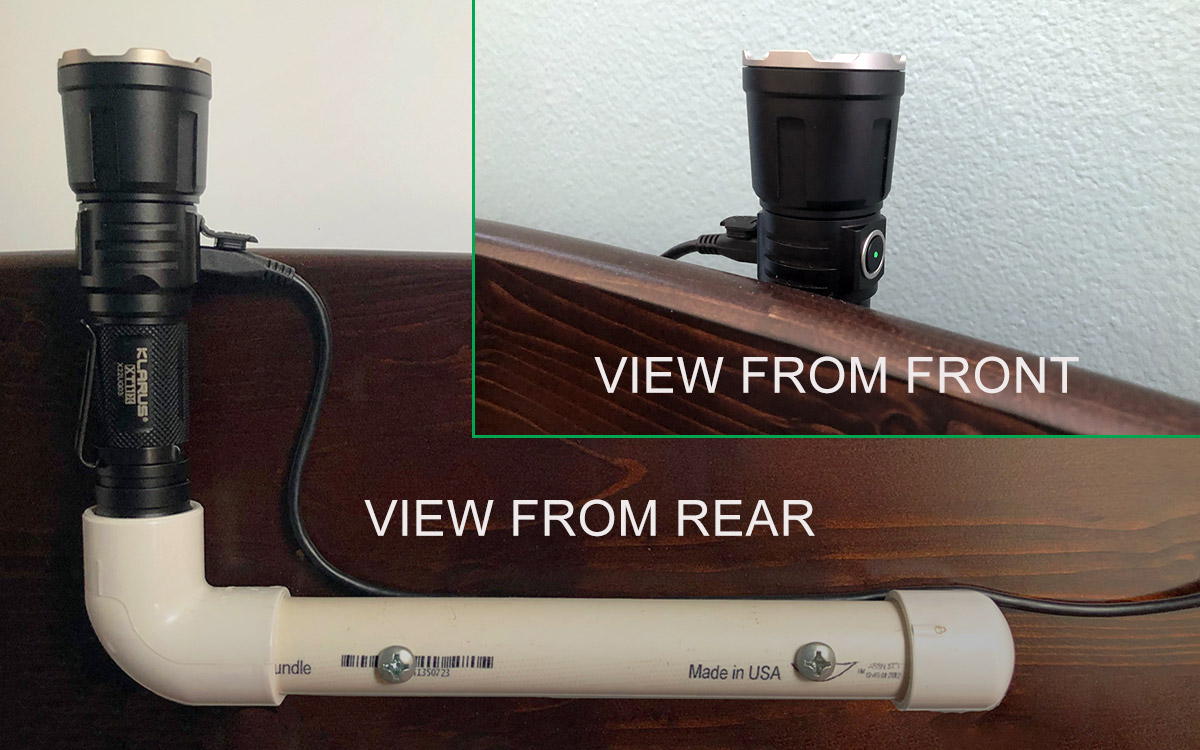 The unit is fastened to the back side of our headboard using a small length of 3/4 inch PVC, an end cap, and an elbow. It looks a bit industrial from behind, yet when the bed is in its normal position against the wall it's really not that noticeable. The green "full charge" indicator light is very dim, yet lets you know that the unit is ready to go. This PVC setup holds the Klarus securely. The 3/4 inch elbow is the perfect size to hold it in place. This arrangement means that no matter what the scenario, I always know exactly where to find a fully-charged tactical flashlight.
I've tested many tactical lights over the years. This includes hard use in rugged overseas travel. I have numerous brands in various sizes depending on the Loadout Level in which they are staged. I've probably tested between five to six Klarus models. I like them for several reasons. First, the models I've ordered are rechargeable. This is an absolute must for me. The ability to top-off the charge after use allows me to have a 100% charged source of light in any Loadout Level as long as I remember to plug it in after use.
The second feature I look for on any tactical flashlight is an actuator located on the tail cap. Models that only have the on switch located on the side are a no-go for me. I don't want to take the time spinning the unit around while trying to find the switch. Having one on the tail cap ensures that I know exactly where it is no matter the orientation of the unit.
Several Klarus models, including the XT11X, have dual-switch tail caps. One switch is a rubberized push-button, and the other a flat, metal toggle switch. I keep my Klarus units on the tactical setting. This means that one press of the toggle switch throws 3,200 lumens of strobing light where I want it. Pressing the standard button shines the same 3,200 lumens, only in a steady beam. This simple operational setup ensures that I don't have to master a complicated set of procedures to get the results I want. If the unit is used in a non-tactical manner, turning it on with the button and then pressing the toggle switch will scroll through the various lumen levels. It couldn't be much easier.
I've had the Klarus setup as shown above for more than two years. I've used it numerous times, and have never had an issue with it inside or outdoor. It's been plugged into a wall outlet using an old 5-Volt iPhone charger and a 3-foot USB cable.
No matter what brand of tactical flashlight you prefer, consider a setup as part of your Loadout Level 04 that keeps it fully charged and within reach when you're sleeping. You'll not regret a setup like this the first time the power fails or you need to check out a strange noise.
Please note that we generally share insights into gear that we've thoroughly tested over time. There are now newer tactical flashlights available from Klarus and other manufacturers that have higher lumen ratings. For example, I recently purchased a Klarus XT21X. It had dimensions similar to the XT11X, yet throws 4,000 lumens downrange. I must not have read the specifications closely enough, however. Whereas the body of the XT11X measures 1.00 inches in diameter, the new XT21X is 1.08. This minor difference means that the XT21X will not slip into the 3/4 inch PVC elbow. The XT21X now rides in the outside pocket of my Loadout Level 02 Go Bag.
As always, remember that Panoplia.org has no affiliate relationships with manufacturers or retail suppliers, nor do we participate in third-party advertising. We simply share our views about gear and supplies that work well for us under hard use.